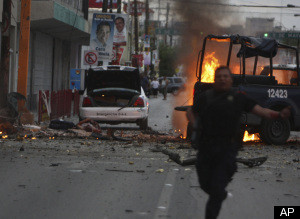 The Inter-American Press Association (IAPA-SIP in Spanish) issued its final report on 11.11.10 on press freedoms in the region, issuing a number of resolutions and releasing the full document after the organization's national congress. The group is based in Miami and represents newspaper owners and publishers at major newspaper outlets in the United States and the major countries of Latin America. Latin American leftists consider it a CIA front, but that's a huge over-simplification of a long and complicated history.
(Disclaimer: I received a IAPA-SIP fellowship to live and work in Chile in 1978-79).
IAPA-SIP was particularly critical of moves by some governments in the region (Venezuela, Bolivia, Nicaragua, Argentina, for example) to control or muzzle the media. It is also increasingly concerned with violence against individual journalists, including murders and beatings, from drug dealers and other criminal gangs and in some cases forces associated with governments. For the full report, links to individual country segments and specific resolutions, see this
link
.
Regarding violence against journalists, the American Society of Newspaper Editors, in conjunction with IAPA-SIP, will hold a two-day meeting in early December at the University of Texas - El Paso to discuss ways that media can protect journalists along the U.S.-Mexico border and related issues. Eleven journalists have been killed in Mexico so far this year covering the drug-related and gang-related violence in that country. For the story, click
here
.